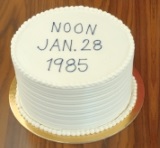 Sergeant at Arms Kelly Cunneen told us the mission statement and commenced the meeting.
President MeL Konrad welcomed our Special Guest and Area Director Dave Blum. She also reminded us that membership fees were due $60 for 6 months.
Toastmaster Tony Navarro greeted us with a Bang!
MeL had the Thought of the Day: when recently having had her car, computer, and printer break down, she remembered to breathe and have positive thoughts. She reminded us to breathe in such situations.
Word of the Day
Tony shared the Word of the day: Brevity, which means "Concise and exact use of words in writing or speech." Quote from Franklin Delano Roosevelt, "Be sincere, be brief, be seated."
MeL uses brevity in speech by often taking out sentences.
Brian Buckman: Joe Montana's autobiography author uses brevity quite well.
Dave Blum: Ernest Hemingway's prose is full of brevity.
Bert Rangel: Wished he used brevity in his upcoming speech.
Tony Navarro: Watched a speech and he was dying inside because it lacked brevity.
Bert Rangel (Icebreaker Speech — 4-6 minutes): Two Immigrants.

This was a heartwarming speech about his parents living the American Dream.
It was a story about the celebration of life, family, love and hard work. He learned what the complete dining experience was through watching his parent entertain their guests at home.

631 Area Director Dave Blum: Pathways Online System.

Comparing it to the Winchester Mystery House. There were three main points:

Customization of ten different paths and earn awards faster.
It takes three projects to win awards for the individual and the club.
You can evaluate sooner.
Table Topics
Anna presented Table Topics.
MeL said that breathing is something that everyone underestimates.
Dave Blum was George Washington.
Kelly lives her dream and there is no right, or wrong, just passages through time.
Steve is his favorite person, why not him?!
Evalutions
Tony was the General Evaluator.
Why are we here? Not to be better speakers, but to be better communicators. One of the tools we use is evaluation. That's one of the tools we use to be better communicators.
Anna evaluated Bert's speech on his family's immigration and making the American dream happen. Anna liked his entertaining story and fluidity.
As Grammarian, Brian Buckman liked Bert's open-ended questions. He also liked the terms, "Simple as a hurricane" in Bert's speech, Mel's, "Just breathe" and Dave's, "Iteration."
Steve Domkowski was the Ah Counter. Kelly had a few ums and sos. Anna used "and" as her filler, and Brian used "ah" as his.
As Time Counter, MeL noted that we were all fabulous!
Bert: 6.19
Dave: 6.44
Dave: 1.27
Kelly: 2.6
Steve: 1.17
Anna: 3.10
Brian: 1.5
Steve: 1.8
Wrap Up
Tony discussed the challenge of the room and time constraints. He also said that it is a gift to have the opportunity to get up and practice speeches, and to be better communicators.
MeL concluded the meeting with Brian, speaking on meeting rules, membership dues, and a microphone meeting. The microphone meeting will occur on 9 Oct.