Minutes
Location
Timing
Start Time: 12:12 pm
End Time: 1:12 pm
Attendees
9 Members: President MeL Konrad, VP Education Brian Buckman, VP Membership Bert Rangel, Treasurer Mark Burchill, Secretary Frank Moraes, Holly Young, Orlando Kai O'Shea, Stephanie K Thatcher, Steve Domkowski.
3 Gusts: Area 25 Director Donica Hopkins, Jennifer Shannon, and Gabriel.
Roles
President: MeL Konrad
Toastmaster: Mark Burchill
Educational Minute: MeL Konrad
Table Topics: Orlando Kai O'Shea
Grammarian: Frank Moraes
Ah Counter / Timer: Stephanie K Thatcher.
Speakers
Holly Young: "All About Holly" — Dynamic Leadership (Ice Breaker)
Evaluated by Frank Moraes.
Jennifer Shannon: "Just Checking" — Area 25 Speech Contest Winner
Evaluated by the club.
New Buisness
District conference is coming up on 11 May 2019.
Next Meeting
Motions
Committee Reports
Narrative
I started by reading the club mission and still managed to say "um" a lot.
President's Remarks
MeL started by introducing our members. Gabriel attended his second meeting with us and I noticed that he signed up to do a speech in a few meetings. So I think we have a new member!
Also at the meeting was Area Director Donica Hopkins and Jennifer Shannon, who came to give her Area-winning speech "Just Checking" — which I assumed was about ethical approaches to banking.
District Conference
The District Conference is coming up on 11 May in San Ramon. I suspect a lot of people will go to it just for the chance to experience the wonder that is San Ramon. There's a reason why everyone calls it "the 4th largest city in Contra Costa County": because it's population is below that of Richmond, Antioch, and Concord. How many other cities in Contra Costa County can say that?
In addition to San Ramon, there will be a lot of great speeches (if you're into that kind of thing). The conference costs $99 and — like most Toastmasters events — should be fun. MeL will send out information about it this next week.
Our next meeting will be 07 May 2019. We were going to have an open house on 30 Apr 2019, but it turns out that the District will be supporting open houses in May, so we are probably going to do it then.
Orlando Gives Big Speech
MeL introduced Orlando who recently spoke in front of a large group.
He said that he was on the organizing committee for the Santa Rosa Trans Rights March — which took 8 weeks. There were about 400 people at the event and all the organizers gave speeches.
Orlando said that he had prepared remarks but that he found he was much better talking off the cuff.
His speech was simultaneously translated into Spanish and American Sign Language — something that none of the organizers had planned their speeches to allow for.
Congratulations, Orlando!
Upcoming Elections
The Toastmaster year runs from July through June. And that means we need to elect new officers. It's a good thing because we really need to get rid of the current set of losers. (Like me.)
MeL went over the role of the Vice-President of Public Relations. Our current VP-PR, Anna Wong, has abandoned us to live in San Francisco. This makes no sense! Now I could understand if she had moved to San Ramon. I mean, who wouldn't give up their last remaining molars to live in the 4th largest city in Contra Costa County? But San Francisco? Why?!
Anna will be sorely missed. So will her partner Marlee.
The VP-PR is the person responsible for reaching out to people and letting them know about the club. They do things like social media where they get into arguments about how Tony Robbins really isn't that good a speaker and which toothpaste is best for public speaking. They might also reach out to local businesses and give speeches. Or anything else that might help promote the club. It's a great opportunity to use your creativity.
Nominations will be in May and voting in June. After elected, all officers will have an electronic monitoring device placed on their ankles so they can't escape.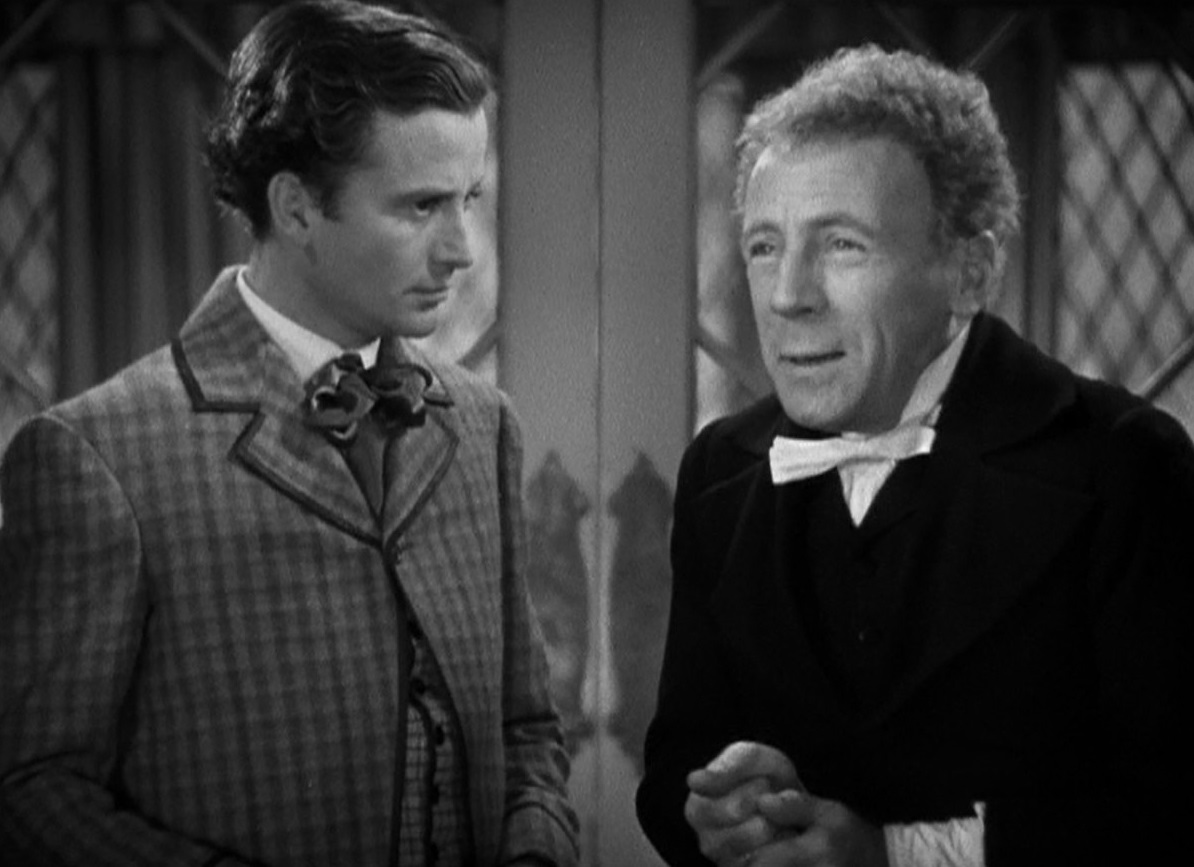 Roland Young as Uriah Heep
Toastmaster Mark
My wishes have been fulfilled. Somehow, the word got out that I wasn't too happy about all these foreign phrases people were using. So Mark picked:
Dulce et decorum est
This was one of my favorite words as a child because of Lord of the Rings. After out of the influence of the ring, Tolkien describes Gollum thus:
For that moment a change, which lasted for some time, came over him. He spoke with less hissing and whining, and he spoke to his companions direct, not to his precious self. He would cringe and flinch, if they stepped near him or made any sudden movement, and he avoided the touch of their elven-cloaks; but he was friendly, and indeed pitifully anxious to please. He would cackle with laughter and caper if any jest was made, or even if Frodo spoke kindly to him, and weep if Frodo rebuked him.
Sounds kind of like me. Did Tolkien make me the way I am?!
We discussed Uriah Heep, the character in David Copperfield. I have a confession to make: I've never heard the band. I was surprised to hear that they were a heavy metal band. I think I had always assumed they were a folk band. I listened to a little bit of them. They're pretty good: great vocal harmonies and a rockin' rhythm section!

Video: Uriah Heep performing "Easy Livin'
Well, here's what the group had to say:
MeL: "I'm going to go the opposite of obsequious because that's my cat, Sally."
Brian: "Last night, my dog Brody was very obsequious behind me as I cooked bacon.
Holly: "Obsequious makes me think of The Stepford Wives and the creepy spell all those women were under."
Stephanie: "Growing up my mother was quite obsequious about doing a complete body-scan at the doorway before she would allow me to go to school."
Donica: "It's very important at work that I am very obsequious to make sure that my boss is not trapped somewhere without a flight or hotel."
Jennifer: "There's a word for when the thing sounds like what it is."
Orlando: "I've never met a cat in my life that was obsequious."
Steve: "Donald Trump is not obsequious to anyone, but being a politician, he is full of Uriah Heep."
Gabriel: "My wife is pregnant and last night I was not willing to be obsequious and go downstairs to get her lotion."
Bert: "I am an obsequious monk of the hospitality industry."
Speaker One: Holly
Holly gave her speech "All About Holly." She talked about her life starting in Los Angeles and moving to the Bay Area when she was 12. Then she moved back south. Probably because her family didn't settle in San Ramon — known throughout California as the 4th largest city in Contra Costa County. Finally, three years ago, she moved back to the Bay Area.
She spoke about her personal (marriage, children) and working (30 years in the real estate industry) life.
Her goal with Toastmasters is to consolidate her experiences and learn to coach and help others.

Anxiety: more than a 17-point word
Speaker Two: Jennifer Shannon
Jennifer gave her Area 25 Speech Contest winning "Just Checking." In it, she talked about her theory (from her psychological practice) that anxiety came from people focusing on things that are uncertain. "Is that pain in my arm cancer?" Or, "Am I going to lose my job?"
People can overcome this by assuming what they do about most things: that all is fine unless they have evidence otherwise.
It was clear why Jennifer won the Area contest!
Table Topics
Orlando was in charge of Table Topics where he gave money-related topics in celebration of tax time.
How much do you like to pay for a meal out?

Holly: I like a good meal so I'll pay a lot of money. Not a lot. Sixty dollars?
If you had to spend $150 on something non-practical in the next 24 hours, what would it be?

Mark: A nice meal and a night at River's End with my sweety.
What do you like to spend frivolous amounts of money on?

Gabriel: I like to spend frivolous amounts of money on my motorcycle.
If you were guaranteed a good salary to do anything, what would you do?

Bert: I enjoy what I do so much that I don't even look outside of that.
What were you spending money on when you were 16?

MeL: Ripple. [Now I know why I get along so well with MeL! -FM]
When was the last time that you wasted money?

Steve: Ryan has no money at all. So when we go to Karaoke, the DJ always says, "Girls, if you like to go to McDonald's, Ryan's your man."
Does money buy happiness?

Stephanie: Money itself doesn't buy happiness but what you do with it can add to your happiness.
What would you do with a sudden windfall?

Bill Clarkson:

Pay people to move to San Ramon so that it would be the 3rd largest city in Contra Costa County.
Speaker One Evaluation: Frank
I evaluated Holly's Ice Breaker. It was really good — especially for a first speech. She speaks very clearly with few ums, ah, or other filler words.
She had a few pacing problems because she refused to wear her glasses and have access to her notes. I wouldn't even know where to start if I did that.
I also recommended (I got this from MeL) to start and end the speech at the same place. That is: circle back to where you start.
It was great to see a new member speaking. Next time, Orlando will give his first speech.
Grammarian: Frank
I flailed around for a bit. Normally, I focus on what I like, but I forgot to take notes. So I babbled a bit about unusual word choices like "frivolous amounts." But the difficult thing about being grammarian is that everyone in the group speaks rather well. We really need some ESL people so I can get out my red pen. (Just kidding. I'd be even nicer to them. You wouldn't believe how bad my 5 words of Spanish are!)
Timer/Ah Counter: Stephanie
The times were:
Holly (4-6): 5:39
Jennifer (5-7): 6:45
Table Topics (1-2)

Holly: 0:27
Mark: 0:27
Gabriel: 0:10
Bert: 0:30
MeL: 1:04
Steve: 1:58

Frank (2-3): 2:48.
The Ahs:
Jennifer: 0
Gabriel: 0
Mark: 1
Holly: 2
Orlando: 4
MeL: 5
Frank: [redacted].
Wrap Up
MeL polled our guests:
Gabriel: I loved it. It's my second time coming. I thought it was great. It's exactly what I'm looking for.
Jennifer: I've been meaning to visit and the contest is a great excuse to do so… There is a huge benefit in doing a speech over and over again. I didn't realize that before.
Donica: I really like this layout. It focuses attention.
Bill Clarkson: It's amazing how unimpressive the largest city in Sonoma County is.
Our next meeting is May 7th.
And the meeting was adjourned.
Still from David Copperfield (1935) taken under Fair Use. Anxiety taken from Pixabay and licensed under Pixabay License.