Overview
Location
Brookdale Paulin Creek
Timing
Start Time: 12:12 pm
End Time: 1:13 pm
Attendees
13 Members: President MeL Konrad, VP Education Brian Buckman, VP Membership Bert Rangel, VP PR Holly Young, Sergeant at Arms Kelly Cunneen, Treasurer Mark Burchill, Secretary Frank Moraes, Christy Helvajian, Dan Schell, Gabriel Cox, Harry Holland, Stephanie K Thatcher, and Steve Domkowski.
3 Guests: Gayle, Teresa, and Vera.
Roles
President: MeL Konrad
Toastmaster: MeL Konrad
Table Topics: Frank Moraes
Grammarian: Christy Helvajian
Timer/Ah Counter: Brian Buckman
Speakers
Mark Burchill: "The Winning Proposal" — Advanced Communication: Persuasive Speaking
Evaluated by Holly Young.
New Business
Officer elections were held. New officers:
President: Bert Rangel
VP PR: Holly Young
VP Membership: Gabriel Cox
VP Education: Frank Moraes
Sergeant at Arms: Kelly Cunneen
Treasurer: Mark Burchill
Secretary: MeL Konrad
Next Meeting
4 June 2019
Motions
None.
Committee Reports
None.
Narrative
I'll admit it: I wasn't paying attention. When Kelly banged the gavel, I remembered that I hadn't started my audio recording of the meeting. (What?! You think I remember all this stuff?) So as she recited the club mission, I was in motion. When the recording started, she paused and there was laughter. I was wondering if she had decided to recite it from memory as she recently showed she could. But I don't know.
I was never a Boy Scout. I'm often not prepared.
President's Remarks
MeL deigned to join us for the meeting. Her absence from the last meeting was sorely felt. On the other hand, no one missed Mark. We just keep him around to get DCP.
You know, I love Mark. Really! But jokes like that make me very afraid for the next meeting when Mark will be roasting me. Here I am just trying to make the minutes a little bit more fun and what do I get for it? Attention. Sure. And you all know how much I hate that! But for the record, I will be red as a raspberry next week. If I am, Mark will have done his job.
I hope Mark doesn't take this as a threat, but I have several one-liners ready about his unnatural love of spreadsheets…
Guest Introductions
MeL took the stage and dealt with some meeting minutia. Then she welcomed our guests. Gayle and Teresa had been to the open-house last time. Vera lives at Brookdale. She could only stay for part of the meeting.
Gabriel was a GINO. If you don't get that reference, look at the last set of minutes!
Also at the meeting was Toastmaster elder Harry who used to do this job. So you know he must be brilliant. (Because I'm so brilliant. You got that, right?)
Elections
Gabriel was voted on as a member of Noon Toastmasters. He just squeaked by with a unanimous vote. I know I had my concerns because of his positive attitude, friendly demeanor, and dedication to the group. Who needs that? Am I right?!
MeL brought up the current officers up to the front of the room to thank them. (Us.) They would be: Holly, Bert, Brian, Kelly, Mark, and me. She gave us all Starbucks cards because she knows we are all Coffee Achievers. Except for me: I'm a Coffee Status Quo-er. But that's being picked.
Then someone had the brilliant idea of photographing us. Generally, I'm fine going through my life believing that I'm skinnier than I am. But every picture brings the cold, hard truth to me. I'm not fond of any cold, hard truths.
Given that all 7 positions were unopposed, Harry leaned over to me and said, "By the rules, the vote can just go to the secretary." I thought he was joking. You know, "Wouldn't it be funny if they just left it to you!"
But then Christy was given the floor and she said, "By the rules, the vote can just go to the secretary."
MeL didn't want to do that. (People who aren't at the executive committee meetings have no idea just what an authoritarian she is!) But I was very impressed. Harry and Christy really know their stuff!
The new officers are:
President: Bert Rangel
VP PR: Holly Young
VP Membership: Gabriel Cox
VP Education: Frank Moraes
Sergeant at Arms: Kelly Cunneen
Treasurer: Mark Burchill
Secretary: MeL Konrad
And then more pictures were taken!
Toastmaster: MeL
MeL was also Toastmaster for the day. So she got right to it.
Word of the Day: Segue
She put up a picture like the following:
"Do you know what these are?"
The consensus of the group was that it was clearly a picture taken in San Francisco and no one at Noon Toastmasters knows anything that isn't in a foreign language.
No, people said, "Segways?"
And so the word of the day was "segue."
This brings up a sore point for any editor. Homophones are our great curse. Seriously: humans think verbally. So we really have to train ourselves to notice the difference between "throne" and "thrown." But, hey, I guess it is job security.
Some of the answers:
Gabriel: "From here I will have to segue into training mode."
Steve: "I segue from my house to hear because 90% of life is showing up."
Christy: "I just realized that this is the segue to the rest of my life."
Vera: "I'm looking at my watch because I'm afraid I have to segue from this meeting to the picnic."
Brian: "My daughter was promoted to 8th grade and she segued right into, 'Dad, I'm bored; when are we going on vacation?'"
Teresa: "This group is a segue into learning because I learned how to spell 'segue.'"
Gayle: "I will be segueing from being a non-speaker to a public speaker."
Speaker: Mark
Mark gave a persuasive speech with PowerPoint slides to convince us to buy furniture and project management services for the cardiac and catheterization lab at the San Francisco VA. I was persuaded, but then I always am. It's easy to sell to me. This is why I make it a point to always be poor.
Mark gives unique speeches because of the path that he's following. Did I mention that he is going to roast me at the next meeting? I've figured out what I should do: burst out crying. I probably would if he knew me better. But all he has to go on is my public persona. He knows nothing of my checkered past. Unless he's contacted my ex-wives…
None of this has anything to do with the excellent evaluation I wrote for his speech. I mention this only because — for the second straight meeting — I managed to lose it before I could give it to him. What's up with that? Perhaps Mark will discuss it at the roast!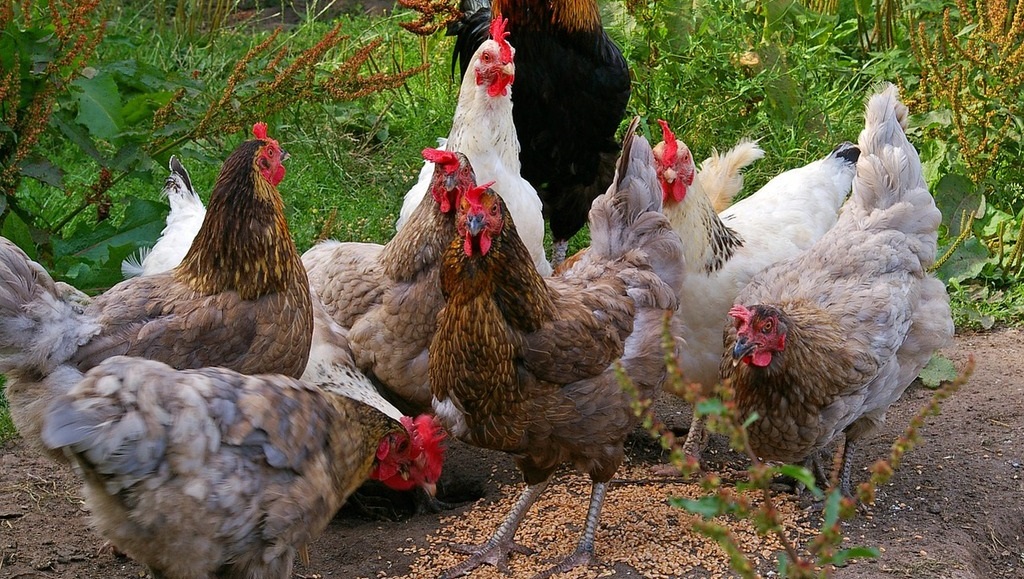 Chickens gathering before the elephant hunt.
Table Topics
I was in charge of the Table Topics, which were, in all the humility I can muster, fantastic:
If animals could talk, which would be the rudest?
Bert: Cats are so rude. You talk to them and they don't even look your way.
Is cereal soup? Why or why not?
Gabriel: If gazpacho can be a soup, cereal can be a soup.
How many chickens would it take to kill an elephant?
Steve: They would all have to surround the elephant when it is sleeping, under its blanket… I'd say we send a thousand.
Toilet paper, over or under? And explain your answer!
Gayle: Over. It just keeps rolling if you put it under. If it is over, you can hold it at the top.
Speaker Evaluation: Holly
Holly said she was a bit confused about the topic and would have liked more background. She asked for more entertainment. And I happen to know that Mark is an excellent tap dancer. So I expect to see that at a meeting soon.
She also emphasized Mark's many qualities: organization and good delivery.
Grammarian: Christy
Christy pointed out some phrases she liked:
Holly: "If I were invisible, I would take a day off."
Gabriel: "Connection is number one."
Gayle: "When Trump had toilet paper on his shoe, no one stopped him."
Timer/Ah Counter: Brian
Mark (5-7): 7:30
Table Topics (1-2)

Bert: 0:43
Gabriel: 0:48
Steve: 1:12
Gayle: 1:10
Teresa: 0:40
Holly: 1:03

Holly (2-3): 2:43
Christy (1-2): 0:42
There were no ahs! Maaayyybbeee.
Wrap Up
MeL checked in with the guests. Gayle said she would be back despite the fact that there is a notable cat hater in the group. Teresa asked about what she could do in the Toastmasters program. And got lots of input. TL;DR: you can do anything you want!
Dan said he would have liked to have Gabriel's question during Table Topics, "Is cereal a soup?" He continued, "Who shoots the holes in the Cheerios? The cereal killer."
And since we couldn't top that, the meeting was ended.
Our next meeting is June 18th.
---
Segway Tours by Tony Hisgett, licensed under CC BY 2.0. Chickens via PICRYL and in the public domain.