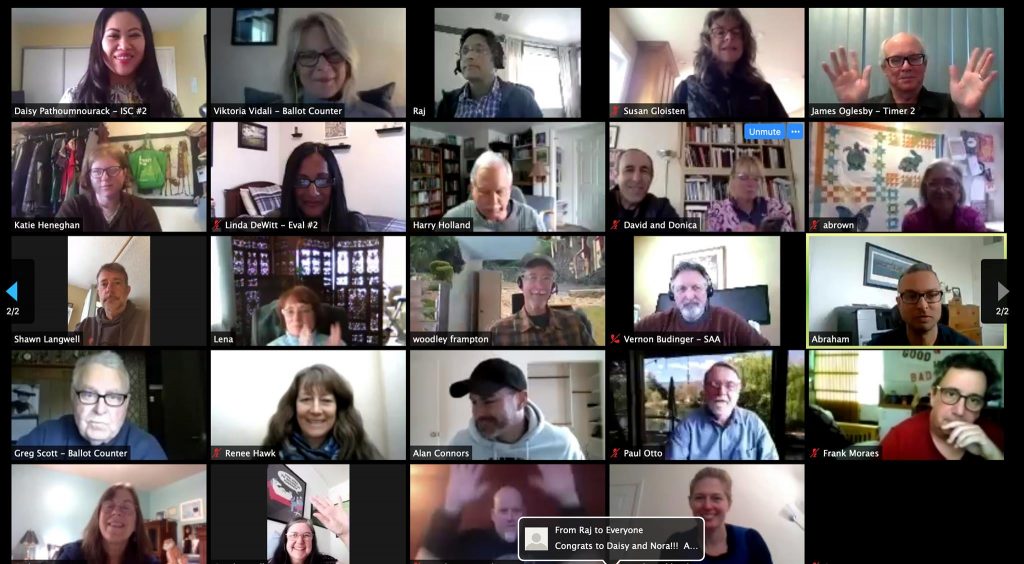 Thanks to 2020's communication technology, we can shelter in place while connecting virtually. We successfully did so with Zoom's software on Saturday, March 28, for the annual Division G Evaluation and International Speech Contests for 18 clubs in the North Bay. Noon's attendees, at least those identifiable from their on-screen names, were Frank, Mark & MeL, and yours humbly.
Division G Director Terri Boudreaux was the Contest Chair, and our District 57 Director Kevin Markl was the Technical Host, suavely manipulating the audio and video feeds for us 48 online attendees.
The Contest's Toastmaster was red-coated Jay Kahn of Top of the Bay, with Linda Redwood-Kahn and one of their cats visible and unobtrusive in the background.
After Terri welcomed us and introduced Jay, he proudly displayed what he proclaimed would be first prize — a clear-plastic-wrapped bundle of 24 white toilet paper rolls. Second prize would be two unwrapped rolls, leaving us to imagine the incentives for competing on today's grab-and-go planet.
Evaluation Contest
Patricia Klemm, Ukiah Toastmasters, was the Test Speaker, generously sharing survival suggestions for us all. During her contestant's interview with Jay, while the Ballot Counters were in their out-of-view breakout room, she noted that she had been volunteering at homeless shelters before joining Toastmasters two years ago. She is also one of Ukiah's meetable members and an Independent Damsel Pro.
1st = Nora Guy, Santa Rosa 182, and 9-1/2 years a Toastmaster. Her on-screen virtual background was the Golden Gate Bridge, reminding me that it awaits our real and far-spanning travels. She had finished second to Noon's own Michelle at the Area contest, but represented it because Michelle was unable to attend this Division contest.
2nd = Jim Goetz, Tenacious Talkers in Lakeport, and 11+ years a Toastmaster. Speaking to a camera for him is "no big deal. I've done it before."
3rd = Linda DeWitt, Kaiser Communicators, 6 years, who found this experience fun.
International Speech Contest
1st = Daisy Pathoumnourack, Toast Tronic, 2 years, with "I Am Hurting" about successful strategies for dealing with the death of a loved one. If you read this blog's posting of three weeks ago you will see that she did not finish first at the Area Contests event. During her interview, she admitted, "This was not a challenge. It was more making it fun. We're all in this together."
2nd = Dallas Gouldberg, Tenacious Talkers, 8 years, with "I Am Mother". "As Mother Earth, I have gathered us here today… It is time to remember who you are." During her interview, she revealed, "To prep for this, it was just repeating my speech and imagining an audience."
As Toastmaster Jay told us, "Who needs two cans and a string!?" Not to string anyone along: For the winners, Terri actually held in front of her camera the Toastmasters medals for 1st and 2nd place.
The Best Thing About Zoom
The best feature of Zoom is its sidebar Chat option, where the attendees can message Everyone or a particular attendee privately. The chatter included many attendees. Among them…
After some unexpected background noise before the contests began, from Ray from Humor Speaks: "If the zombie screams …I'll mute."
From Nora: "If my kid comes running through the room making noise just ignore."
From Daisy, after previously holding up her very young daughter to the camera: "Awe I love the sound of kids, Nora. :)"
After the one technical glitch stopped a contestant's video and audio feed for a few seconds, from Ray from Humor Speaks: "One of the best pauses ever."
And from Woodley: "He needs more coffee."
Later, from Lacie: "Thanks for the snacks whoever brought them!"
From David and Donica: "Is that champagne? ooh, too generous."
After Jay showed to us a plastic eyeball which he identified as "a cheesy prop", from a spectator: "Gouda show."
From Mark & MeL: "I'm getting a little thirsty. I think I'll Havarti."
Before it's time to really cheese it: D57 invites everyone to attend the future online events. May 15 and 22, in particular, will feature our District 57's Evaluation and International Speech Contests. For sure, we are all winners.